Although Amazon Japan offers loads of stuff to satisfy my discriminating American sensitivities, there are times when I surf Amazon USA and find an item that tickles my fancy.  But will Amazon USA ship this thing to my Japan home?  Here's a quick tip for finding out...
* Under the "Other Sellers on Amazon" section, click the "X new from..." link.  A list of all Amazon sellers selling the item will appear.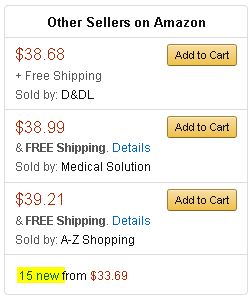 * Scroll through the list, paying close attention to the "delivery" section.  Those offering international shipping will naturally have the word "international" in their delivery / shipping information.  Use your browser's search page function (usually control/command +F) to find "international."  Note that the list of sellers could be a few pages long.



* But how much is it?  You could read the seller's shipping info or simply add it to your cart and start going through the check-out process.  You'll see the shipping cost before you finalize the purchase.  Perform some intense soul-searching to determine if it's really worth it.

Unfortunately, you may find that the shipping cost exceeds the price of the product.  I have at times exclaimed, "Oh hells no!" at the check-out page.  Then I beat my chest, chug a beer, and start the search for a Japanese alternative.  Perhaps you could boost the shipping efficiency by ordering several things at once.  Best of luck to you, fellow foreigner!

FURTHER READING
How to Get USA Stuff Shipped to You in Japan - Living Abroad
Related Articles
If you ever find yourself traveling through coastal Asia, chances are you will pass through or very close to the islands known as Japan. It is a land rich with ...
This comparison will be snappy quick and simple. Japan just doesn't stand a chance against the USA in the beer arena. Japanese Beer is Too Expensive ...
Finding a good apartment or any apartment in Japan can be a real pain for foreigners.  Most apartments require a guarantor on the lease, basically someone to vo...
During my recent trip back to the States, I engaged in an engaging conversation with a learned compatriot, the staunchly patriotic father of one of my best fr...