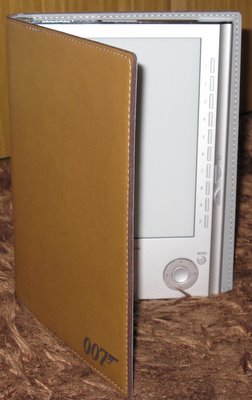 Having recently been in the market for an ebook reader, I researched just about every current and soon-to-be-released brand and model.  I narrowed my search down to 2—the Sony PRS-505 and the Amazon Kindle 2.  I struggled heavily with the decision because the feature set of the Amazon Kindle 2 was very attractive.  Ultimately, however, I decided upon the Sony James freakin' Bond special edition PRS-505.  Here are the reasons why:
The Sony was cheaper by almost $100.
It's smaller and lighter.
It's made of metal giving it a solid, book-like feeling to it.
It comes with a nice built-in cover, thus saving an additional $30 or so over the Kindle.
The main selling point of the Kindle is its cellular-based wireless capabilities.  I live in Japan, so this feature would not work for me.
The Sony accepts SD cards as well as Sony memory sticks.  This is convenient because I can transfer books using the card reader built-into my computer monitor.  It's nice not having to cable the reader to the PC.  Book files don't take up a lot of space (I don't need 500 books in my reader), but the Sony reader can play mp3s and display photos.  It's nice to know I can expand the storage if needed.
It included 2 free James Bond novels.
The included cover has the 007 logo on it, so I look totally bad-ass when reading.  It's important for me to look bad-ass whilst reading.
The Sony reader has a sizable geek cult following, so I can turn my reader into a file server, media center, and space probe navigational console.
I can proudly say that I'm not part of the Kindle herd, thus maintaining my "indie" image.
The Sony Ebook Store partnered with Google Books, so there are 500,000 free books formatted to work with the Sony reader.  Most of the free books are from the 1800s and before, but I don't care.  I'm looking forward to catching-up on my Charles Dickens and Homo...I mean...Homer.
The Sony reader opens PDFs without having to convert them online.  Resizing the text for better readability on the 6" screen will cause the reader to re-format it.  This can mess-up any graphs, charts, etc. in the PDF; however, I wasn't unduly inconvenienced by it.
The free software Calibre works perfectly with the Sony.  This software can not only convert PDFs to ebook format for better readability, but also sync with RSS feeds and other web resources for reading on the Sony.  In other words, Calibre greatly enhances the functionality of the reader.
So despite the lack of text input ability, searching, and built-in dictionary, I'm extremely happy with the Sony reader.  It's truly changed my life forever.  Thank you for reading.
Related Articles
I gave myself a home project--upgrade / reorganize my home studio so that it is both more comfortable and more like a proper man-cave. As a man-cave can...
I'm obsessed with bluetooth.  So much so that I've been hunting for heaven's own pair of bluetooth headphones for my Tokyo subway commutes.  I'm already on my 5...